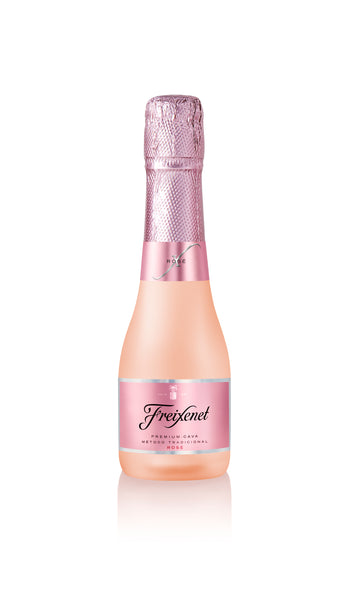 Freixenet Rose Extra Dry 20cl (quarter bottle)
Available
Sparkling Wine
Freixenet
TASTING NOTES
Bright strawberry pink, with an abundant mid sized bubble, which rises quickly in the glass, and forms a good crown at the top of the glass. The nose is wonderfully fruity, as a result of the low fermentation temperatures between 15 and 17°C, which allow most of the primary grape aromas to be retained. There are rich floral and fresh bay leaf aromas from the Grenache, blending with ripe red fruits, blackberry and strawberry, as well as exotic grenadine, dried figs and dates from the Trepat. All these combine with elegant notes of medium term bottle ageing. The palate is fresh and light, soft and appealing. The red fruits, typical of the Rosado cavas and still wines of the region dominate the palate.
PRODUCT DETAILS
Country : Spain
Region : Catalonia
Appellation : Cava
Grape variety : Trepat - Grenache
ABV : 12%
Closure : Mushroom Cork
The following terms and conditions relate to purchasing of products from P.Cutajar & Co. Ltd., operating from San Gwann. These terms and conditions apply solely for purchases done through this site and may vary from those regarding purchases either from our shop or from our offices. Our delivery system operates on a fixed route, whereby we have a number of vehicles in specific areas of Malta on specific days. Upon receiving your order, you will be contacted by phone to agree a suitable date and time for delivery according to our fixed route.

Express delivery on the following working day is only possible depending on availability of service and comes at an additional charge of €5 paid directly in cash to the delivery man. All orders below the value of €50 have an additional delivery charge of €5.00.
Prices
Prices are clearly shown next to each product on the web site. Prices are not negotiable. All prices are inclusive of any VAT payable unless otherwise stated. Delivery charges are included. If prices change and web price is not updated, we will inform you as to confirm your order.
Order Processing
You must keep track of your order status with the tracking facility on your account page.
Availability
If for any reason beyond our control we are unable to supply a particular product we will notify you as soon as possible.
Age Restriction
Since our products include alcohol products, sales will not be allowed to users' age 17 years or under. 
Payment
Payment for goods bought on line are made through PayPal.
Returns Policy
On any occasion where the products delivered are different to those ordered we must be informed of this within 3 working days of receipt. We will arrange a collection of these products as necessary, once we have investigated the dispatch records for your order.

Our standard Returns Policy applies to all purchases from P.Cutajar & Co. Ltd.
Customer Services
If you have any order related queries, please email us hampers@pcutajar.com.mt or contact us at the office on +356 2144 4364. We aim to respond to all enquiries within the next working day.